Murphysboro Placemaking Action Plan
Revitalize 62966 addresses local challenges and builds a practical action plan through creative placemaking, a people-centered approach to building strong, vibrant communities. The project's goal is to help Murphysboro achieve economic and population growth through the creation of catalytic projects.
Community input and visioning sessions with a diverse group of residents provided the foundation for identifying the projects that comprise Revitalize 62966. Conversations focused on identifying current community assets, what we need to attract and retain the next generation, and how we can boost and provide economic development opportunities.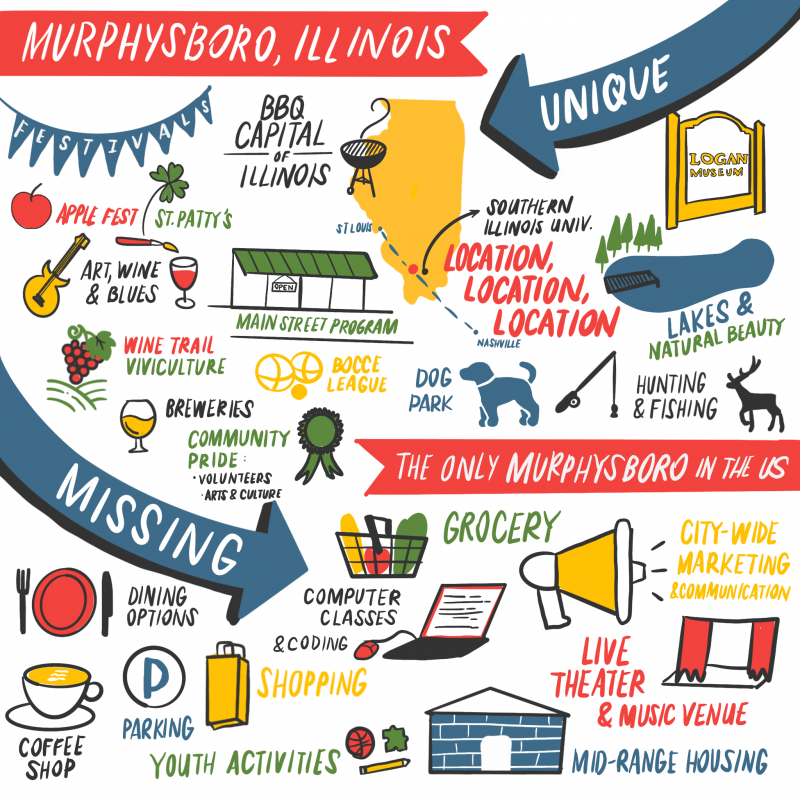 Further input was provided through countless one-on-one interviews and small group sessions with key stakeholders, as well as conversations with the Steering Committee members. After much discussion and review, the following projects were determined as the top priorities to be addressed by this plan: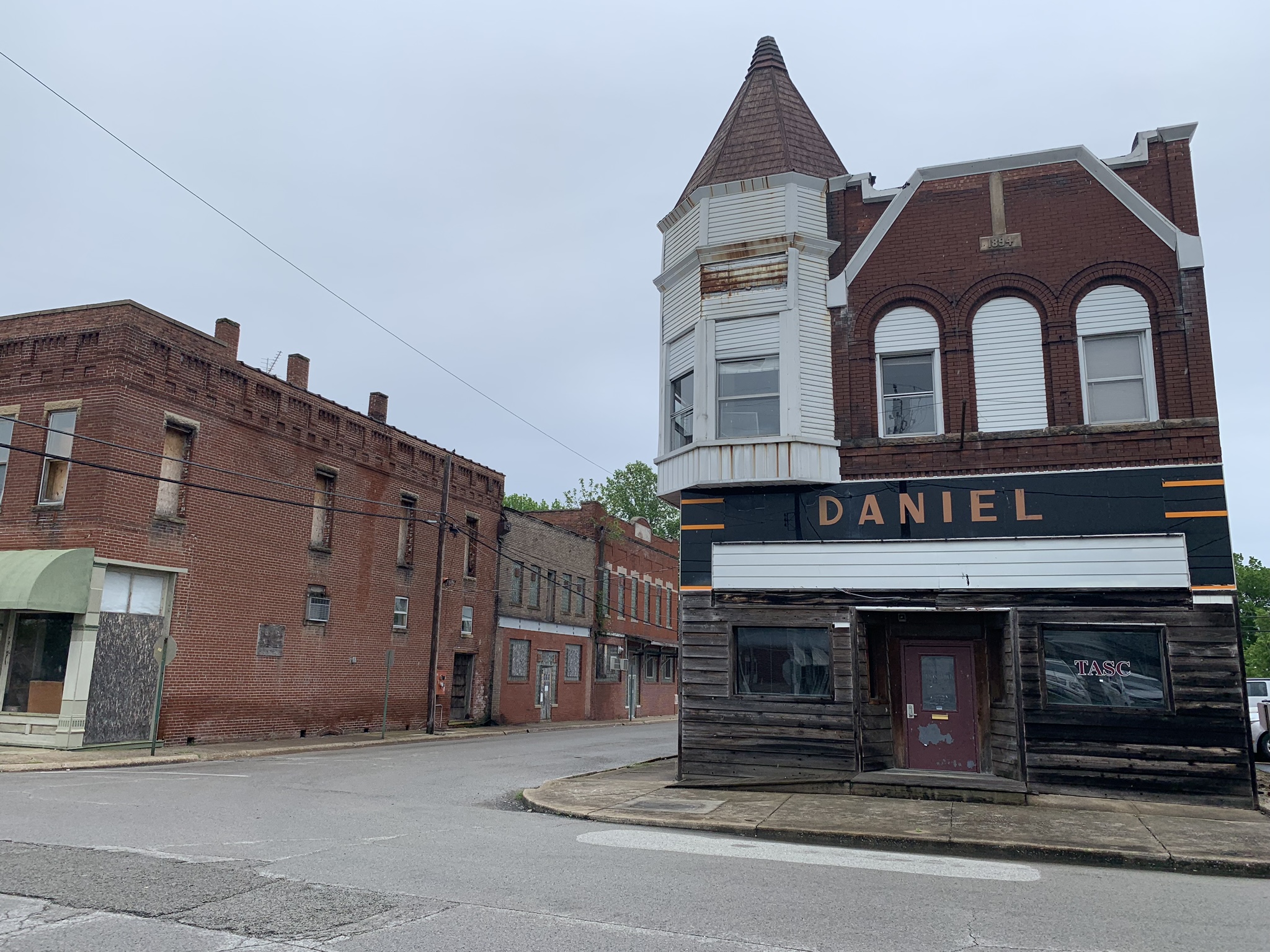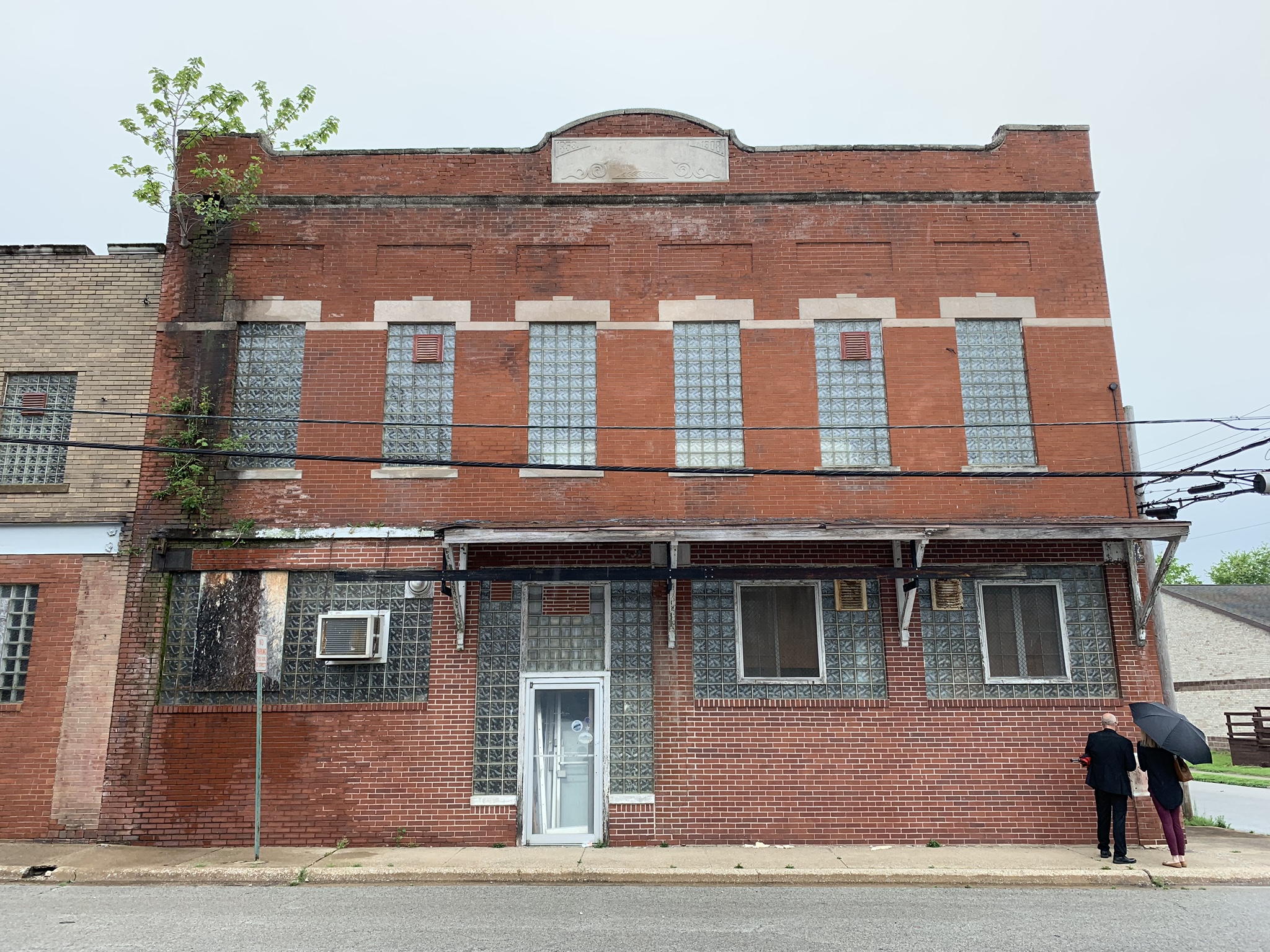 Special thanks to all those local supporters who made this project possible.
Name / Organization
Elizabeth Smysor Foundation
Murphysboro Tourism Commission
City of Murphysboro
First Bank & Trust of Murphysboro
Admiral Parkway Development – Joe Koppies
Murphysboro School District #186
Murphysboro Main Street
17th Street BBQ – Amy Mills
Penn Aluminum
Egyptian Electric Cooperative
Mike & Sharon Jones
Scott & Paula Maloney
Ryan & Brooke Guthman
| | |
| --- | --- |
| Joni Beth Bailey | Joni Beth Bailey Law |
| Molly Blew | Molly's Pint |
| Dan Bost | Jackson County Board / Bost Trucking |
| Lily Cook | Oasis Skin Care |
| Mike Cripps | First Bank & Trust |
| Bob Davenport | Realty Central |
| Brad Fager | Fager-McGee Commercial Construction* |
| Aurora Flowers | Murphysboro High School |
| Noah Fritsche | Real Church |
| Jamie Green | Murphysboro Main Street |
| Brooke Guthman | Egyptian Electric Cooperative* |
| Reverend Joe Hoem | Immanuel Lutheran Church |
| Mike Jones | Genl. John A. Logan Museum |
| Shirley Krienert | Oak Street Art |
| Scott Maloney | Jackson County Abstract & Title |
| Amy Mills | 17th Street BBQ |
| Tamiko Mueller | Jackson County Board / New Beginningz Realty* |
| Dillion Rushing | Chamber of Commerce / Martel's Pizza |
| Will Stephens | City of Murphysboro |
*Member of Jackson Growth Alliance
Alchemy Community Transformations' model of economic development utilizes the principles of PLACEMAKING to improve the quality of life for a community, help grow its population, and attract development opportunities. These proposed priority projects were selected with the vision of revitalizing Murphysboro through CATALYTIC PROJECTS surrounding the downtown area as the cultural hub of the community.

Since resources are limited, it is the intent of this plan to recommend projects that can be implemented in a two- to five-year time frame as catalysts for further development. For those reasons, there were a number of additional projects that were considered, but ultimately didn't make the final cut. Go to Next Steps to learn more about future potential projects.
WE NEED THE ENTIRE COMMUNITY TO STEP UP AND MAKE OUR VISION A REALITY!
CLICK HERE TO LEARN HOW YOU CAN GET INVOLVED!
For any comments or questions about the project: